<!- mfunc search_box_body ->
<!- /mfunc search_box_body ->
<!- mfunc feat_school ->
Featured Programs:
Sponsored School(s)
<!- /mfunc feat_school ->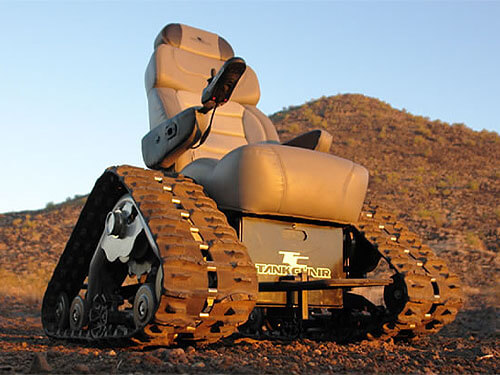 The earliest records of wheelchairs date back to both China and Greece in the 69th century BC, and the device as we know it today was created by mechanical engineers Harry Jennings and Herbert Everest, who designed a steel collapsible model in 1933. The past few decades have also seen technology make a major impact on wheelchairs – good news for the approximately 3.3 million Americans over the age of 15 that use them. Modern design has allowed greater reliability, functionality and style. Many wheelchairs have introduced innovative new design features to aid comfort and propulsion, ensuring that users can still lead active lives despite their disabilities. And this is important in school environments, where the right wheelchair can provide increased independence and autonomy. Read on for 10 examples of awesomely futuristic wheelchairs.
10. The HXC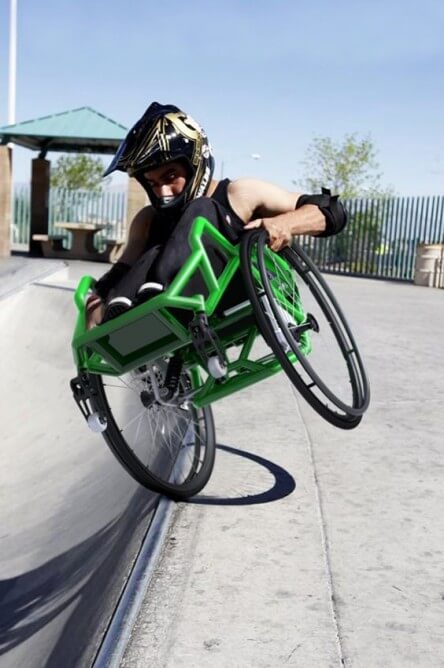 Inspired by "hardcore sitting" wheelchair athlete Aaron Fotheringham, industrial designer Joven De La Vega set out to create a BMX-like wheelchair specifically designed for such sporting activity. De La Vega readily likens the working prototype he built to a BMX street bike, and he also adds that it's "not built for comfort. [It's] built to do work." Unlike the case with standard wheelchairs, the front casters are set directly into the frame and are positioned further forward than usual, meaning the HXC has a longer wheelbase. This ensures faster, more adrenaline-pumping rides. The frame of the chair also uses round tubing similar to that of a BMX, and the HXC's rigidity stems from De La Vega's use of straight, angular lines for the frame. In addition, it features multi-link suspension as well as handlebars close to the user's legs – to keep the person in their seat while performing flips in mid-air.
<!- mfunc search_btn -> <!- /mfunc search_btn ->
9. Trekinetic GT-3 Active Sport Pro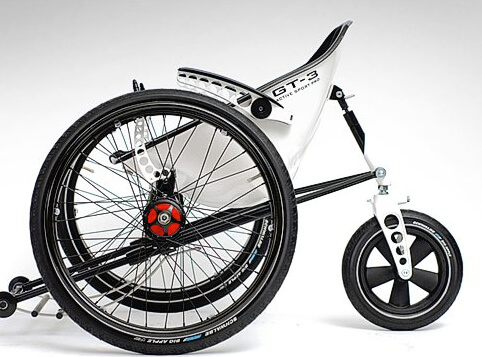 Trekinetic's original K-2 model chair introduced a carbon fiber monocoque seat instead of the traditional metal chassis more common in regular wheelchairs, and the seat was anatomically molded to brilliantly support the human form. The new seat also included an auto-tilt feature that helps users adjust for hills and curbs. In turn, the GT-3 took the K2's all-terrain design and adapted it for an urban environment. The GT-3's smooth tires help it run quickly on city surfaces, and its stylish design is complemented by its "grand prix" white and "Nero black" finish. According to Trekinetic, it has even been described as "the most beautiful wheelchair ever designed." The GT-3 also features special color-coding, flip-back armrests, Dyna-Brake functionality and suede-look upholstery, and it's available for around $6,728.
8. DEKA iBOT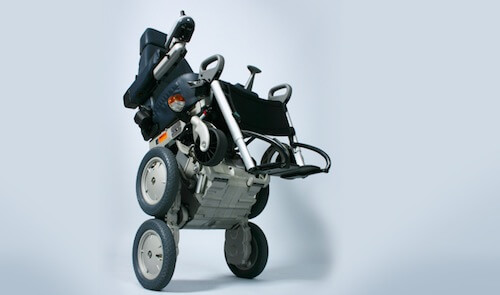 DEKA's iBOT device strove to completely reinvent the wheelchair. The design features self-balancing technology, and it can not only negotiate tough terrain and stairways but, like the CARRIER (see entry 6), also elevates the user so that he or she can be at eye-level with others who are standing. Developed by Dean Kamen in conjunction with DEKA and Johnson and Johnson's Independence Technology division, the iBOT boasts a remote-control feature that permits it to be loaded or parked more easily.
Sensors and gyroscopes are key to the iBOT's intuitive design, enabling the chair to maintain balance by feeding information to its custom-designed software. Unfortunately, Independence Technology ceased selling the iBOT in 2009, although support will remain in place through 2013 – and there have since been efforts to bring back this innovative invention. In 2011, inventor Kamen, who also created the Segway, voiced his support for the revival of the device.
7. Quickie Xenon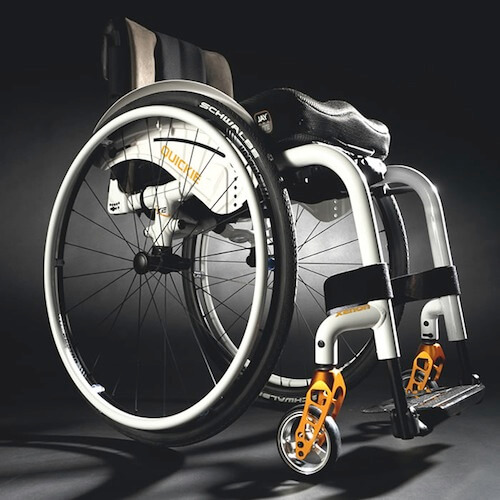 The compact Quickie Xenon is billed as "the lightest folding wheelchair in the world." The chair's progressive and patented flat cross brace composition cuts a distinctive shape around its lightweight oval frame. The minimalistic chair, which weighs less than 18.5 pounds, is made of cutting-edge "hydroformed aluminum" and acts like a rigid chair with all the perks of a softer folding one. The Xenon is also efficient in terms of energy use for handling and driving, and it features quick-release wheels and a dynamic folding and locking system that means it can be easily disassembled single-handedly. Customizable parts available in over 20 colors also enable users to make their chair unique, as well as practical.
6. The CARRIER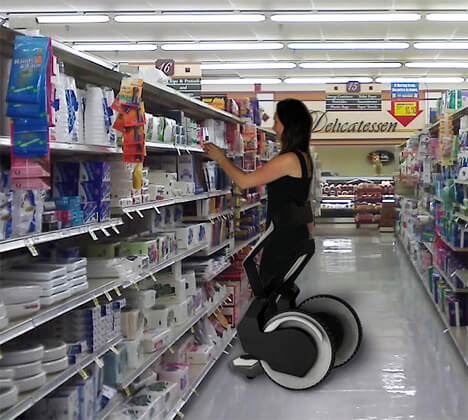 The CARRIER is an advanced prototype that showcases possibly one of the most futuristic wheelchair designs ever realized. It was created to make everyday actions easier; for example, the chair features a seat "trap door" at a toilet-friendly height. Stairs and slopes can easily be tackled with the CARRIER's special "Galileo Wheel," which adds a track to make mobility simple. The CARRIER can also raise the user up to grab out-of-reach objects or to the eye level of standing people. Here, the aim is independence, and to allow wheelchair users to handle a wide range of surfaces and situations. The innovative design was developed at the University of Applied Arts in Vienna.
5. All Terrain Wheel Chair
Argentinean industrial design student Francisco Lupin constructed the striking All Terrain Wheelchair in 2009 as his final university project. The chair was exhibited at Argentina design contest Innovar, where it was chosen by Well-Tech to be showcased at the 2010 Milan Design Week. The key feature of the wheelchair is its unique suspension system, which aids users with less movable lower limbs. The design combines the attributes of standard and sportier wheelchairs, aided by a fiberglass monocoque. The intuitive suspension system shifts according to the weight it's supporting, and the rear wheel design offers stability. Since college, Lupin has joined a multidisciplinary research team affiliated with Argentina's nationwide National Technological University that specifically works on products to help disabled people.
4. Carbon Black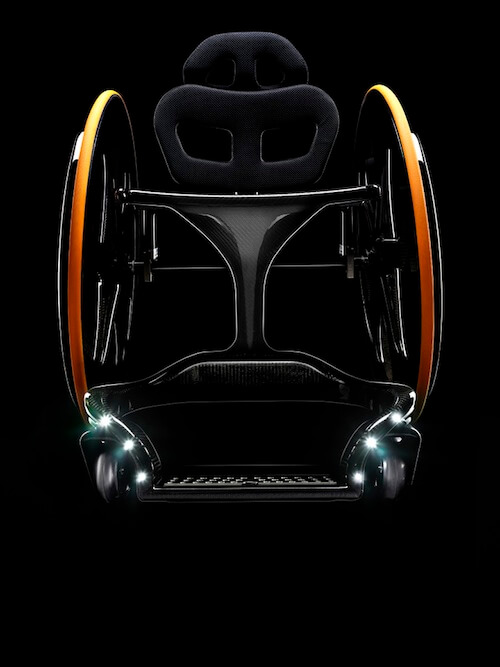 The Carbon Black wheelchair more than lives up to its sleek moniker. The almost exclusively carbon fiber-made chair aims to modernize the look, functionality and even desirability of the common wheelchair. Carbon fiber is not only light; it's strong, flexible and doesn't require any lubricant for the upkeep of moving parts. Scottish inventor and wheelchair user Andrew Slorance took four years to design and develop the Carbon Black, and the end product is both portable and low maintenance. The chair is made up of four detachable components: twin side wheels, a seat and footrest, and a seat back. Each wheelchair is made to measure depending on the user, and all chairs' footrests and seat backs can be adjusted. Another elegant and practical touch is the line of LED lights on the footrest, which not only brighten the path ahead in darkness, but also increase the visibility of the wheelchair at night.
3. ROTA RoTrike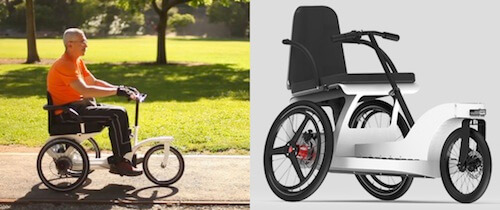 ROTA Mobility describes its RoTrike as "the ultimate cross-over wheelchair." It eschews traditional push-rim propulsion, with its motion instead generated by a central lever and a "powertrain." The lever is used to move both forward and backwards, achieving up to two wheel revolutions per push-pull and speeds as high as 15 mph. The RoTrike is designed for easy access, with 20-inch wheels situated neatly under the seat and lots of maneuverability. Movement in the chair is simplified thanks to the chair's easy-to-use handlebars, twist-grip gearshift and powerful brakes. According to ROTA, it's the "most accessible manual mobility device ever," and one that can tackle a variety of terrain types. Since it measures just 27 inches in width, the RoTrike can easily fit through standard doorways, and it is quick to disassemble for transportation.
2. Independent Wheelchair Assist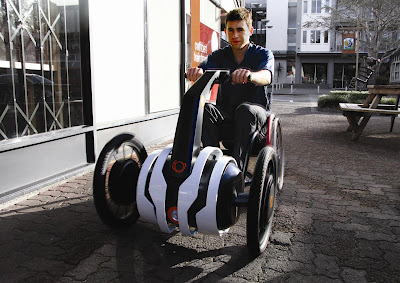 The James Dyson Competition is a worldwide student design contest that encourages young engineers to "design something that solves a problem." In 2012 New Zealand student Oscar Fernandez submitted an entry that provided a practical solution to a common predicament. Inspired by his grandfather, who had lost the ability to move from a wheelchair to a mobility scooter owing to old age, Fernandez devised an add-on called the Independent Wheelchair Assist (IWA). The device connects to a wheelchair, transforming it into a small, motorized vehicle. To design the IWA, Fernandez undertook a four-month research phase, which included confining himself to a wheelchair for one week. After gaining a greater understanding of the psychological and physical issues that wheelchair users confront, he then used 3D printers and hand tools to construct a design that was eventually turned into 76 functional models. The IWA is a modern-looking and practical solution that provides greater mobility for less able wheelchair users.
<!- mfunc search_btn -> <!- /mfunc search_btn ->
1. The Tank Chair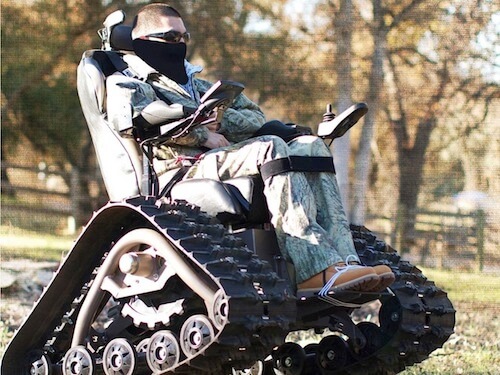 The Tank Chair was designed to go almost anywhere. Thanks to its caterpillar tread-style rubber tracks and high-torque electric motors, the chair can traverse a multitude of different terrains, including snow, sand and mud – even streams. Determined that his wheelchair-bound wife should join the family on a mountain hike, Brad Soden devised the off-road Tank Chair back in the early 2000s. Since then, his company, TC Mobility, has developed an improved range, including one chair that users can control with their heads. It can prove a boon for wheelchair users living and working in rural areas. However, one man has run into difficulties when operating his special machine. In 2011 Briton Jim Starr was barred from using his Tank Chair on public land owing to its weight and size. The UK Driver and Vehicle Licensing Agency (DVLA) told Starr that he needs to put in an application for a category H driving license before using it again.