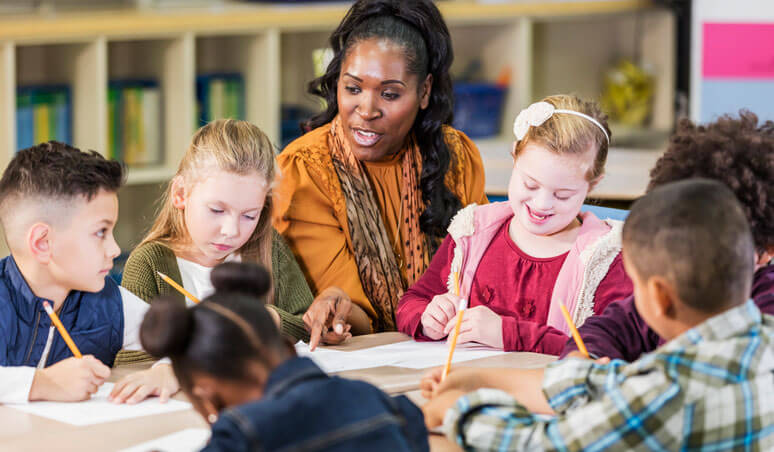 Before American legislators passed the Education for All Handicapped Children Act in 1975, the country's education system treated children with disabilities as at best an afterthought and at worst a burden. Many children and families were effectively shunned from public education and society at large. Of the children that made it into schools, thousands upon thousands were funneled into segregated programs where their needs (educational, emotional, social, and otherwise) were virtually ignored. Today's special education teachers work diligently to keep that reality in the past.
<!- mfunc feat_school ->
Featured Programs:
Sponsored School(s)
<!- /mfunc feat_school ->
That's because special education teachers aren't often just classroom instructors. They're impassioned advocates, creative researchers, and cunning collaborators. Considering 1 in 5 American children have learning disabilities and 1 in 6 have developmental disabilities, the country seems to need more special education professionals than ever before.
Whether you're a prospective teacher at the beginning of your journey or an experienced general education teacher, you can answer that call. Here's what you need to know about becoming a special education teacher.
Steps for Becoming a Special Education Teacher
There's not one defined path to becoming a special education teacher. In fact, each state has its own requirements. However, by following a flexible educational path, you can be ready to meet those demands just about anywhere in the country.
Click below to find out more about each step to becoming a special education teacher:
Step 1. Complete a Bachelor's Degree and an Approved Teacher Preparation Program
Step 2. Pass the Required State Examinations
Step 3. Apply for an Initial Educator License/Certification
Step 4. Pursue Graduate Studies in Special Education
---
Step 1. Complete a Bachelor's Degree and an Approved Teacher Preparation Program
Many special education teachers start their journey by earning a bachelor's degree in special education. Like other prospective college students, you'll want to look for institutions accredited by the nation's regional accrediting agencies. However, you'll also want to ensure that your new school's special education program is an approved teacher preparation program. But what does an approved teacher preparation program look like and who actually approves them?
<!- mfunc search_btn -> <!- /mfunc search_btn ->
Special Education Teacher Preparation Curriculum and Practicums
Simply put, approved teacher preparation programs teach students how to teach in a specific setting. They're most often four-year programs that require students to take about 120 credit hours of classes.
In an approved special education teacher preparation program, you'll likely learn how to:
Teach students with different disabilities and overcome learning barriers.
Assess students and craft Individual Education Programs (IEPs).
Use different assistive technology tools like hearing aids and voice-activated computers.
Plan lessons based on students' needs.
Collaborate with families, administrators, outside specialists, and social services.
Work in inclusive, one-on-one, general, and self-contained special education classroom settings.
In some programs, you may be required to pick a specialty like teaching students with mild/moderate disabilities, severe disabilities, or early childhood development issues. And because inclusive classrooms are becoming more of a norm, special education teachers may also be required to learn about general education teaching principles. Teachers who want to work in middle and high school settings may need to take courses about teaching in those contexts, as well.
But special education preparation isn't all about classroom learning. It's about gaining hands-on experience. Most programs require students to complete a practicum in which they work in general and special education classrooms under supervision. Just as importantly, practicums help future teachers complete the fieldwork hours necessary to earning a teaching license in most states.
Accreditation and Finding Approved Teacher Preparation Programs
Teaching licenses are approved and distributed on a state-by-state basis. As such, your state's board of education likely has an approved list of teacher preparation programs that meet their requirements.
In the vast majority of cases, state-approved teaching preparation programs have been accredited by one of three national agencies:
The Association for Advancing Quality in Educator Preparation (AAQEP).
The Council for the Accreditation of Educator Preparation (CAEP).
The National Association for the Education of Young Children (NAEYC).
These agencies work closely with the Council for Higher Education Accreditation (CHEA) and the US Department of Education to ensure that all new teachers enter the field with a consistent level and scope of knowledge. For this reason, having a degree from an accredited program is often required before earning a state teaching license.
---
Step 2. Pass the Required State Examinations
Though there may be some variance between states, most require all teachers to pass a standardized exam before earning their initial license. If you earned your special education degree from an approved preparation program, you will likely be ready to take it soon after graduation.
In many states, special education teachers must pass the Praxis Special Education: Core Knowledge and Applications exam. This exam is designed for special education teachers who want to work in any type of school from preschool to high school.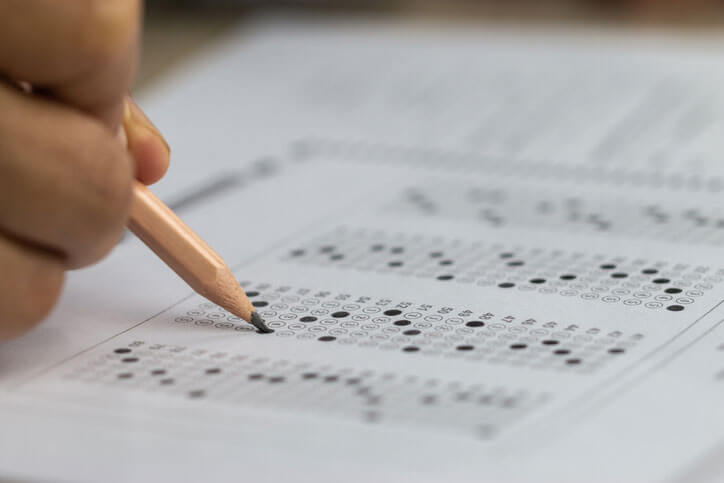 According to the Educational Testing Service (the organization that designs and administers this exam and many others), it consists of 120 questions and covers five domains:
Development and Characteristics of Learners
Planning and the Learning Environment
Instruction
Assessment
Foundations and Professional Responsibilities
It's important to note that some states require multiple exams for different kinds of special education teachers. So in addition to the core Praxis exam, you may have to take tests covering topics related to hearing impairment, American Sign Language, mild to moderate disabilities, or early childhood development.
Special education teachers who want to work in secondary schools may have to take exams covering a specific content area like social studies or math. You may also have to take tests related to general education practices, as well. Once again, be sure to check with your state's department of education for all requirements.

---
Step 3. Apply for an Initial Educator License/Certification
After earning your degree, passing all required state exams, and gaining classroom experience through an internship or practicum, it's time to apply for your state teaching license. In most cases, they're issued by states' departments of education or professional licensing offices.
Before submitting an application, though, it's important to answer a few questions about your state's special education teacher requirements:
Did my practicum experience fulfill the state's fieldwork hour requirement for initial licensing?
Do I need to work as a licensed general education teacher before being eligible for special education licensure?
Do I need a specialty license, certification, or endorsement to teach specific learner populations (children with autism, hearing impairments, etc.)?
Do I need to apply for a license to teach specific subject matter? If so, how do I qualify?
What fees do I need to send in with my application?
How often do I need to renew my license?
The answers to these questions vary widely between states so always check with your state's teacher licensing agency for a complete list of requirements. It's important to remember that while all public school teachers need a state-issued license, not all private school teachers do. However, many private schools take it upon themselves to require licenses even if it's not their legal duty to do so.
<!- mfunc search_btn -> <!- /mfunc search_btn ->
If you plan on moving to another state after earning your teaching license, you may have to apply for a new license. Fortunately, the vast majority of states are members of the National Association of State Directors of Teacher Education and Certification Interstate Agreement. However, this agreement doesn't mean states automatically accept licenses from other states. They may grant teachers from other states temporary licenses at first or deny the applicant's request. In that case, you may have to fulfill other requirements before being granted a full teaching license.
---
Step 4. Pursue Graduate Studies in Special Education
Special education can be challenging. Each learner is an individual with their own specific talents and needs. But with that challenge comes the chance to improve yourself as an educator and discover aspects of your calling you've never even considered. Earning a Master's in Special Education can be a great way to get the most out of your career in special education.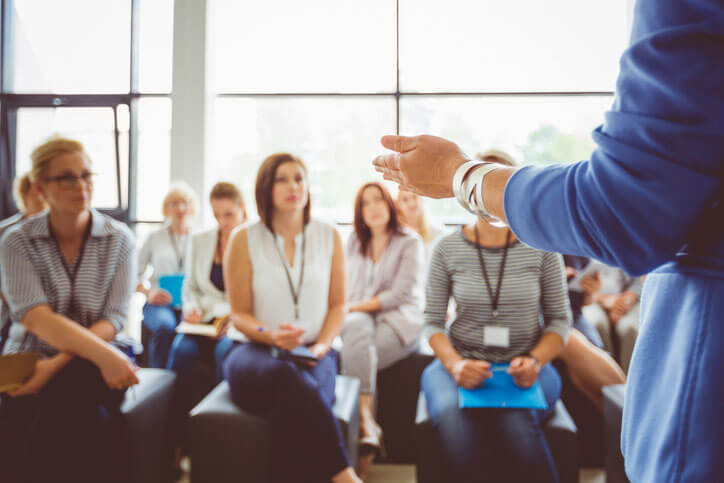 With a graduate degree in special education, you can:
Become a well-informed, compassionate school administrator.
Develop expertise in areas like autism, early childhood development, learning disabilities, applied behavioral analysis, and more.
Instruct future special education teachers.
Help schools and governments craft meaningful, productive policies and legislation.
Work with research teams on bringing new understanding to the lives of your colleagues and the students they serve.
Pursue a PhD in Special Education and develop tomorrow's evidence-based teaching practices.
In general, Master's Special Education degrees can be earned in two years as a full-time student. But because many Master's candidates are full-time teachers, degrees can also be earned online and on a part-time basis.
What If I'm a Teacher Who Doesn't Have a Bachelor's in Special Education?
You can still pursue a Master's in Special Education if you didn't study the field in undergrad. In programs for practicing general education teachers, you'll build on your existing knowledge and learn more about serving special needs students. To make these types of programs accessible to working professionals, many schools don't require GRE scores for admission.
What If I'm Not a Licensed Teacher?
Even at the Master's level, many special education degree programs are designed to lead to initial licensing status. But before starting your special education classes, you may be required to take prerequisite courses about general education principles. Typically, these programs also offer student teaching programs that help students fulfill state experience requirements.
While legislation requires all public schools to have appropriate and equitable special education resources, the National Center of Education Statistics reports that 45% of American schools are short on qualified special education teachers. So no matter your educational background, now's the time to follow your calling. If you're compassionate, creative, and willing to learn, today's colleges and universities can teach you everything else.
<!- mfunc feat_school ->
Featured Programs:
Sponsored School(s)
<!- /mfunc feat_school ->