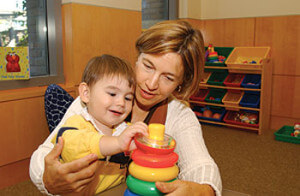 If you have received the calling to work with young children who have physical, emotional, intellectual, and/or sensory impairments, you may want to become an early intervention specialist. Within both classroom and center-based programs, early intervention specialists are responsible for designing, implementing, modifying, and evaluating interventions to positively impact the developmental needs of infants or toddlers with disabilities. Early intervention specialists must have strong collaboration skills, a broad understanding of medical terminology, high energy level to interact with young children, and an arsenal of effective intervention strategies. In order to get on the right track towards this rewarding educational profession, the following is a guide to the steps for becoming an early intervention specialist.
1. Earn a Bachelor's Degree in Special Education
Since early intervention specialists are given the duty of providing supports for children from birth through 5 years old who are displaying developmental delays, it is recommended that they start by earning undergraduate training related to early childhood special education. Within a bachelor's degree program for special education, students may also want to take supplemental coursework related to physical, speech, and/or occupational therapy to expand their areas of specialization down the road. Coursework should cover topics related to developmental milestones, educational assessments, and a broad array of disabilities that are experienced by very young children. It is recommended that you choose one of the programs accredited by the National Council for Accreditation of Teacher Education (NCATE) for ideal preparation.
2. Pursue a Master's Degree with Emphasis in Early Childhood Intervention
After receiving an undergraduate degree, it is suggested that early intervention specialists further their education at the graduate level by pursuing a master's degree with an emphasis in early childhood intervention. While some of the larger universities in the United States offer stand-alone programs for early intervention specialists, this concentration is often part of an early childhood special education degree or certificate program. For specific preparation for becoming an early intervention specialist, you will want to fill up your schedule with courses related to behavioral problems, classroom intervention, child development theory, child psychology, early intervention assessments, and risk factors in special needs children.

FEATURED PROGRAMS
SPONSORED LISTINGS
SCHOOL
LEVEL
PROGRAM
MORE INFO
Winthrop University
Master
Online Master of Education (M.Ed) In Special Education Intervention
Purdue University
Master
Online MSEd in Special Education Includes Tracks for Mild Intervention or Intense Intervetion
3. Fulfill State Licensure Requirements
In order to legally practice as an early intervention specialist, the majority of states nationwide will require you to fulfill state licensure requirements through the state's department for education. This is especially true if early intervention specialists are planning to work in public school systems, state-funded intervention programs, or other formal educational services. Although the licensure requirements vary greatly from state to state, many will require specific coursework related to special education, experience working in an early childhood care center, and portfolios to review previous work related to early intervention. For increased job opportunities, individuals may wish to also pursue professional certification through the National Association of Special Education Teachers (NASET) in early childhood intervention.
Related Resource: Life Skills Teacher
Overall, early intervention specialists function as members of an interdisciplinary professional team to help young children obtain better developmental outcomes by receiving appropriate services as early as possible in their childhood. When you follow these steps to become an early intervention specialist, you will be well-equipped with the knowledge and skills needed to fulfill a rising demand for early intervention services to very young children at risk of developing special needs.