Featured Programs:
Sponsored School(s)
<!- /mfunc feat_school ->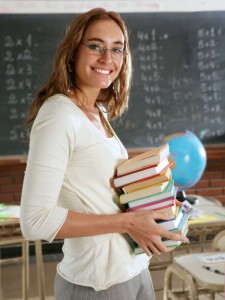 Getting a job as a curriculum developer with a Master's in Special Education is easier than if you only had a Bachelor's in Education. Many of these positions are only open to those who have a minimum of a graduate degree, but if you already have your graduate degree, you meet that requirement. In addition to knowing what skills you need, you should also think about the duties and tasks you'll do on the job and how much money you can make.
What is a Curriculum Developer?
A curriculum developer is someone who works independently of a school or a school system. Considered an expert in the field, the developer comes in when the school needs to make changes to meet the minimum standards of the state, when updating its courses or when added new classes. They meet with the teachers to go over the goals they have in mind, and they meet with students to get a feeling for the skills those students have and which areas need more work. Curriculum developers help schools renovate their existing programs and introduce new classes for students. They also produce products that teachers can use in the classroom, and some developers even design and write textbooks.
How Much Do Developers Make?
According to the Bureau of Labor Statistics, instructional coordinators, also known as curriculum developers, make a median amount of $28.87 an hour or $60,050 a year. The Bureau of Labor Statistics reports that the curriculum development field will see a 13 percent increase in available jobs, which is as fast as the average rate of growth.
Why Do You Need a Teaching License?
Before you can get a job as a curriculum developer with a Master's in Special Education, you need your teaching license. As each state uses a different system to license its teachers, it's important that you check with your state upfront. You generally need a minimum of a bachelor's degree in an education field and the ability to successfully pass a criminal background check. Some states use a licensing examination. This examination will test your knowledge on teaching practices and the education field. Obtaining your license lets you work as a special education teacher, which will help you better understand the type of curriculum that works with students of this type.
Get the Necessary Skills
Do you have experience with Microsoft Word and other types of software and computer programs? Do you know how to communicate and work with others? Working with a team, computer skills and communication skills are just some of the traits that you need to get a job as a curriculum developer with a Master's in Special Education. You also need to show that you have experience working with children and the ability to use the more popular teaching methods in your classroom. When you apply for an open position, make sure that you highlight any curriculum development and course design that you did as a teacher.
Related Resource: Special Education Coordinator
The professionals working in curriculum development are the ones who design new programs that help students learn more effectively. Even if you already have a graduate degree, you need to meet other requirements before applying for jobs in this field. To get a job as a curriculum developer with a Master's in Special Education, you need to show that you have what it takes to design new programs for special education students.