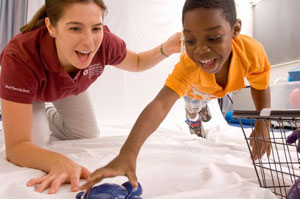 If you are considering a career in occupational therapy to treat injured, ill, and disabled patients to improve the skills needed for daily living, then it is important to be aware of the steps needed to become an occupational therapist. According to the American Occupational Therapy Association, occupational therapists are knowledgeable healthcare professionals who are responsible for working with patients with permanent or temporary disabilities to perform daily tasks independently with or without the use of assistive equipment. Occupational therapists may find employment in hospitals, private practices, physician offices, elementary or secondary schools, nursing homes, and home healthcare services. The following is a step-by-step guide on how you can develop the competencies needed to assist patients in coping with and engaging in everyday activities.
<!- mfunc feat_school ->
Earn a Relevant Bachelor's Degree
The first step towards reaching your dreams as an occupational therapist is to earn a relevant bachelor's degree from an accredited institution. Depending on the requirements of your chosen graduate school, you may need to earn a bachelor's degree specifically in occupational therapy. However, most will accept a four-year undergraduate degree in biology, psychology, sociology, kinesiology, health science, or even liberal arts. While earning your bachelor's degree, it is important to load your course schedule with the prerequisite courses that are mandatory for gaining admissions into the master's program of your choice and complete related volunteer work for valuable work experience.
<!- mfunc search_btn -> <!- /mfunc search_btn ->
Pursue a Master's Degree in Occupational Therapy
Although most occupational therapists only needed to receive a bachelor's degree to become licensed previously, all states except Colorado began mandating that occupational therapist professionals have at least a master's degree in 2007. In order to qualify for licensure, it is required that therapists have earned a master's degree in occupational therapy that has been fully approved by the American Occupational Therapy Association. Along with the classroom learning, two to three-year master's programs will include extensive field work in hospitals, private homes, residential centers, rehabilitation facilities, clinics, and more under direct supervision.
Pass the NBCOT Examination for Licensure
Licensing requirements for occupational therapists tend to vary significantly from state to state, but most require an application fee, submission of official college transcripts, a background check, and passing scores on the National Board for Certification of Occupational Therapy (NBCOT) examination. After paying the application fee of $500 to $540, you will need to take the exam with your state licensing board and receive a passing score or wait 45 days to retake it. Once you have become licensed as an occupational therapist in your state of residence, you will be required to stay current on therapeutic techniques by completing continuing education credits and renewing the license.
Related Resource: Special Education Coordinator
<!- mfunc search_btn -> <!- /mfunc search_btn ->
As the large baby boomer population continues to age and individuals remain more active later in life, occupational therapists are in high demand to help older adults develop strategies to make daily activities easier for optimal independence. In fact, the Bureau of Labor Statistics predicts that employment of occupational therapists will grow much faster than average at the rapid rate of 29%, thus creating 32,800 new jobs before 2022. Therefore, when you follow these steps to become an occupational therapist, you will benefit from great job prospects for making a difference in the lives of patients struggling with the simplest of daily tasks.