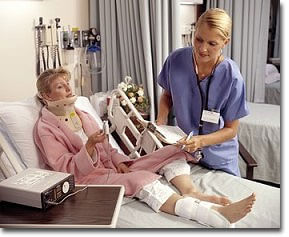 Occupational therapists use different types of therapies to help those recovering from an illness or an injury, and most of the jobs available as an occupational therapist are in the medical field. While some schools hire therapists to work with students and student athletes, you'll often find that most of the jobs listed in the field are with nursing homes, hospitals and therapy offices. With the right training and education, you can even open an office of your own.
<!- mfunc feat_school ->
Home Health Aide
Some of the jobs available as an occupational therapist are with home health aide companies. These companies help the elderly and patients get support in the comfort of their own homes. Instead of working patients in a rehabilitation center or a dedicated office, you'll take your supplies and equipment to the homes of your clients. Home health aides often provide help with bathing, cooking and cleaning, but as an occupational aide, you'll help your patients learn what they can do around the house and how to perform simple exercises and stretches that can help them recovery after an injury.
<!- mfunc search_btn -> <!- /mfunc search_btn ->
Nursing Home Therapist
If you prefer working with the same people day after day, you might look for jobs open with local nursing homes. The biggest difference between a nursing home, also known as an assisted living facility, and a retirement home is that those living in a retirement home often have more mobility and are more active. As a nursing home therapist, you work with clients residing there after a stay in the hospital and those who live there permanently. You'll use the reports that you get from other workers and the patients' hospital records to determine what methods they can handle the best.
Independent Operators
Though some people enjoy the comfort and stability associated with working for an employer, others love the freedom that comes from running their own offices. As an independent operator, you set your own hours and decide on your patient list. You can operate out of rehabilitation centers in local hospitals or treatment clinics, or you can work out of your own office. Patients with schedule appointments and come to you, but you can also work in the homes of your clients. Running your own business is generally best for those who have experience working with patients and references from doctors and hospitals.
Hospital Therapists
According to the Bureau of Labor Statistics, the median salary associated with the jobs available as an occupational therapist is $36.25 an hour or $75,400 a year. The BLS also reports that 28 percent of those working as occupational therapists work in private and public hospitals. Those who work in a hospital often work the same schedule every week. They have the chance to form professional relationships with other workers and friendly relationships with their patients. As a hospital worker, you'll often work with patients who recently had surgery and those trying to get back on their feet after suffering an injury.
Related Resource: Development Specialist in Special Education
<!- mfunc search_btn -> <!- /mfunc search_btn ->
Occupational therapists help patients grow stronger through exercises and other programs. They show them how they can perform tasks around the house and at work until they recover from their injuries or illnesses. Most of the jobs available as an occupational therapist are with hospitals, but you can also run your own business or accept positions with nursing homes and home health aide companies.