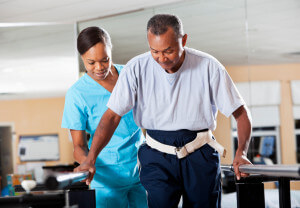 Students looking for a rewarding healthcare career that won't place them at the bedside should consider becoming an occupational therapist. On the rehabilitative side of healthcare, occupational therapists specialize in treating people who need support in overcoming an injury, illness, or disability for an independent life. Unlike physical therapists who focus on stretching and exercise, occupational therapists use work and play activities to foster the development of everyday living skills. As the baby boomer population ages and more patients are diagnosed with debilitating ailments, the employment of occupational therapists is projected to grow rapidly by 29 percent through 2022, according to the Bureau of Labor Statistics. The following is a brief job profile for anyone interested in entering the in-demand occupational therapy field.
<!- mfunc feat_school ->
What Occupational Therapists Do
Occupational therapists work with individuals across the age spectrum to develop the essential cognitive and motor skills needed to fully engage in life. Most therapists will focus their career on serving a certain population, such as the elderly, premature babies, autistic children, mentally ill adults, or injured veterans. Occupational therapists are responsible for evaluating the client's condition, determining realistic goals, and creating an intervention plan to achieve the desired progress. Therapists will train patients to use assistive aids like wheelchairs, leg braces, feeding tubes, prosthetic limbs, and speech generating devices. Occupational therapy takes a holistic perspective in adapting the living or work environment to fit the individual.
<!- mfunc search_btn ->
<!- /mfunc search_btn ->
Where Occupational Therapists Work
According to the Bureau of Labor Statistics, there are currently around 113,200 occupational therapists working nationwide. The highest percentage practice in state, local, and private hospital systems to care for patients recovering from surgery or injury. Another large group of occupational therapists work in elementary and secondary schools with children coping with disabilities. Occupational therapy jobs can be found in mental health clinics, day care centers, long-term care facilities, nursing homes, home healthcare, assisted living centers, and inpatient rehabilitation. A significant number of occupational therapists also work independently in their own private practice. Occupational therapy is typically a full-time career with 40-hour weeks.
How to Become an Occupational Therapist
Practicing as an occupational therapist will require that you successfully complete a four-year bachelor's degree and at least a master's program. Some occupational therapists further their education to the doctoral level. Attending a graduate school accredited by the Accreditation Council for Occupational Therapy Education (ACOTE) is vital. Master's degrees in occupational therapy take two to three years for completion with a minimum of 24 weeks of supervised field practicum. After graduation, occupational therapists are required to pass a national certifying exam to receive proper state licensing. Through the American Occupational Therapy Association (AOTA), registered therapists can further specialize with board certification in gerontology, mental health, pediatrics, or physical rehabilitation.
Related Resource: Speech Therapist
<!- mfunc search_btn ->
<!- /mfunc search_btn ->
Overall, occupational therapists help people make positive changes to overcome any limitations hindering their ability to eat, dress, bathe, learn in school, work, and do other everyday activities. The U.S. News and World Report has recognized occupational therapists for having the #13 best job in America with a high average yearly salary of $80,000. Occupational therapy can be lucrative, but it's a challenging career designed for people with great people skills, creative problem solving abilities, and a dedication to helping others. If you choose to become an occupational therapist, you'll have the ability to restore patients' abilities to perform the daily tasks of life.