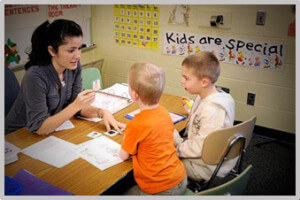 If you have passion for books and wish to instill this same love in young people, then you could be the perfect match for becoming a reading specialist. Also called literacy coaches, reading specialists are licensed educators who have completed advanced specialized training in the most effective reading instruction techniques. Reading specialists play crucial roles in teaching, assessment, and school leadership to prevent reading failure. Literacy is a timeless skill that children and adolescents must possess to become tomorrow's productive citizens. Since shocking literacy statistics show that one in four U.S. children grows up without learning how to read at a basic level, literacy is becoming a major emphasis area in education. The following is a brief job profile for anyone interested in becoming a reading specialist.
<!- mfunc feat_school ->
Featured Programs:
Sponsored School(s)
<!- /mfunc feat_school ->
What Reading Specialists Do
Reading specialists often serve as resource teachers to give one-on-one or small group instruction to students having reading difficulties. Many will conduct evaluations on struggling readers to diagnose disabilities like dyslexia and provide their expert opinion to special education teachers. Reading specialists also perform a major role in developing and evaluating their school's reading programs from kindergarten through 12th grade. Using their specialized training, reading coaches will provide fellow teachers will helpful tactics for improving their literacy instruction. Some may even collaborate with school principals and district administrators to revamp research-based reading programs that accommodate all students' learning needs.
<!- mfunc search_btn ->
<!- /mfunc search_btn ->
Who Reading Specialists Teach
Certified reading specialists are trained to teach virtually anyone the phonemic awareness, phonics, fluency, and vocabulary to read. Literacy coaches can plan reading programs in K-12 school districts for early childhood, elementary, middle, and high school students as well as adult learners in community-based learning centers. Some may focus on working with individuals from diverse cultural backgrounds who are first learning English. Other reading specialists could devote their skills to teaching gifted children or adolescents with learning disabilities. Reading specialists tailor curriculum to suit varied abilities. The majority of specialists are employed full-time and have their own classrooms to promote reading.
How to Become a Reading Specialist
There are several steps aspiring reading specialists must take before certification. First, you'll need to obtain a four-year bachelor's degree in education and initial state teaching licensure. It's recommended that you start building your resume with classroom teaching experience at your desired grade level. Up to three years of experience may be required. Then, you must head back to graduate school to complete an accredited master's degree program. Many universities nationwide offer Master of Education (M.Ed.) programs with specializations in reading or literacy education. Coursework will be aligned to your interests in teaching reading. Most states will mandate that new reading specialists then pass the Praxis certifying exam, according to the Educational Testing Service.
Related Resource: Early Intervention Specialist
<!- mfunc search_btn ->
<!- /mfunc search_btn ->
Overall, reading specialists hold significant responsibility in providing the overall direction for a school's literacy program to help students improve language development. This rewarding career can involve mentoring classroom teachers, advising principals, creating reading curriculum, teaching illiterate adults, or providing individualized instruction. According to the Bureau of Labor Statistics, employment of reading specialists and other instructional coordinators is projected to grow slightly faster than average by 13 percent through 2022. Even though you'll have to invest in advanced training and certification, being a reading specialist will provide intrinsic rewards in helping struggling learners develop a lifelong love for reading.