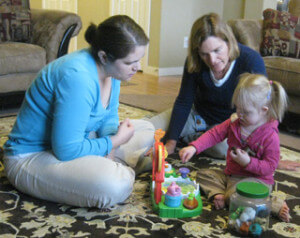 If you want to work in special education with very young children, becoming an early intervention specialist could be the best fit. Early intervention specialists are trained educators who work with kids from birth through age four to address developmental delays. Early intervention provides assistance at the first warning signs of educational difficulty to prevent further impediment. Children who receive early intervention services can significantly benefit in lowering the severity of physical, speech, intellectual, and behavioral development issues. The Bureau of Labor Statistics reports that special education jobs will grow sluggishly by six percent through 2022, but early intervention specialists should find favorable prospects as more children with disabilities are being diagnosed earlier. The following is a brief job profile for anyone considering working in early intervention.
<!- mfunc feat_school ->
FEATURED PROGRAMS
SPONSORED LISTINGS
Winthrop University
Online Master of Education (M.Ed) In Special Education Intervention
Purdue University
Online MSEd in Special Education Includes Tracks for Mild Intervention or Intense Intervention
George Mason University
Master's and Graduate Certificate Programs in Special Education
Capella University
100% online MS in Special Education Teaching
<!- /mfunc feat_school ->
What Early Intervention Specialists Do
Early intervention specialists use engaging exercises and games to support young children who are lacking critical skills development for their age. They're responsible for identifying and serving youth who are exhibiting deficiencies in key areas of learning. Early interventionists play a pivotal role in connecting children and their families with other social service providers. Early intervention specialists will carefully evaluate the child, create a treatment plan, suggest learning activities, establish development goals, and monitor progress. Most will also direct parents to speech pathologists, occupational therapists, physical therapists, and other healthcare professionals for well-rounded intervention. Early intervention specialists work to positively shape the lives of young children and mitigate risks of disability.
Where Early Intervention Specialists Work
Early intervention specialists can be employed in various settings working with infants and toddlers showing signs of various disabilities. Since research has showed that children make the most progress in their natural environment, a high percentage of early intervention specialists works for private agencies and travel to families' homes. Many early interventionists are employed by preschools and day care centers to quickly address developmental delays at the start of education. Early intervention positions could also be found in elementary schools, community-based education centers, regional reading programs, therapy offices, and medical groups, according to Autism Speaks. Early intervention specialists typically work full-time, but there's more flexibility in creating a year-round schedule than most teaching jobs.
How to Become a Early Intervention Specialist
Before you can work in early intervention, you'll need to possess at least a four-year bachelor's degree from a regionally accredited college. Most aspiring early intervention specialists will pursue an undergraduate major in early childhood education or special education. Taking added courses related to speech or physical therapy could be helpful. Although it's not always required, earning a Master of Education (M.Ed.) with a specialization in early childhood intervention can help build a successful career. All states require teachers working in public school systems to pass Praxis exams and become licensed, according to the Educational Testing Service. Depending on your state, there may also be formal certification programs for early intervention.
Related Resource: Occupational Therapist
Overall, early intervention specialists are teachers who work with young children under age five who have an established disability or are being evaluated for developmental delays. Receiving early intervention is crucial for kids to avoid falling drastically behind their peers and failing to catch up. Early intervention specialists also handle many assessments used to craft an effective IEP plan for special education services later. If you become an early intervention specialist, you'll have the rewarding chance to leave a lasting impact on correcting young children's development for a bright future.